It is better to watch the video 🎥 than to read long instructions:
Take a look inside the Garden Tower and learn how to grow more nutritious food by watching the video below
Look at this scheme:
Garden Tower 2 is a vertical hydroponic garden that can grow up to 50 plants at a time. It works by using a water and nutrient solution to irrigate the plants in the garden. The water and nutrient solution is circulated through the garden by a pump, which ensures that the plants receive the correct amount of water and nutrients.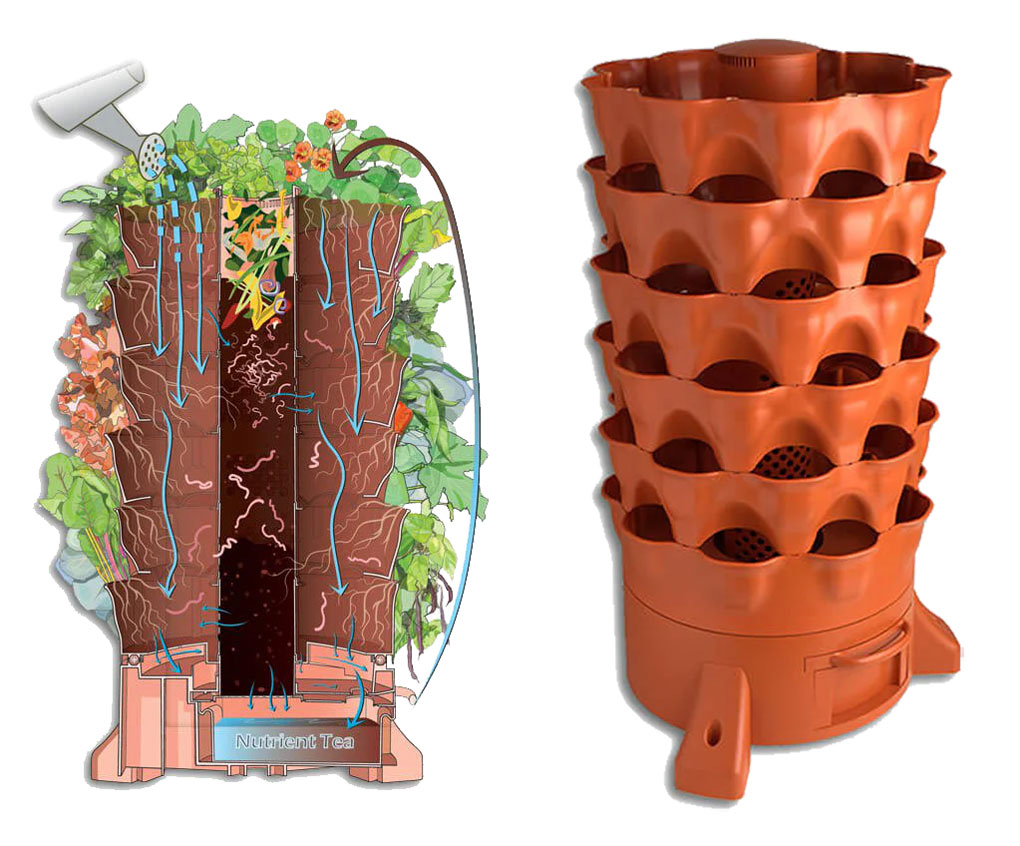 The Garden Tower 2's vermicompost column doesn't need a lot of maintenance. The soil around the column provides consistent moisture and temperature for a lasting worm environment. A Garden Tower 2 can recycle over 50 gallons of organic kitchen waste in 9 months, transforming nutrient-dense organic trash into nutritious organic meals!
Did You Know? 👨🏻‍🌾
Did you know the brand's history?
The Garden Tower Project was started on Kickstarter on April 19, 2012. The project was started by inventor Colin Cudmore, environmental scientist Joel Grant, and health professional Thomas Tlusty. They wanted to create a way for people around the world to connect with sustainable, organic produce.
Original Garden Tower
The Garden Tower container gardening system makes it possible for home gardeners to compost, use worms to break down the compost, and grow 50 plants in one barrel-shaped planter. The built-in water-recycling system helps the plants grow by giving them recycled water that is packed with nutrients. This system is cheaper and takes up less space than a traditional garden.
Garden Tower 1.1
In April of 2012, Colin and his team were ready to share the Garden Tower growing system with the world. After the launch of their first Kickstarter, an angel donor partnered with GTP to bring the Garden Tower to life. In December of 2012, their first Kickstarter backers received their towers, kicking off a fresh food revolution that has continued to gather steam ever since.
Garden Tower 2.0
Two years later, they were ready for an update. They had already given the original tower its now-familiar terracotta coloring, but they wanted to take it one step further. The Garden Tower 2 was built off the original design in new, exciting ways — upgraded vermicomposting capabilities, 360-degree rotation, and 100% recyclable, food-contact grade plastic, just to name a few! Their fans were so excited about the update that the second Kickstarter was funded in 33 minutes!
They knew they had something special when they started shipping out the first GT2s. The Garden Tower 2 was made with 100% American-made parts (99% made in our home state of Indiana!). This showed that Garden Tower 2 was truly homegrown.
Living Product Challenge
In 2015, the Garden Tower 2 team set their sights on certification from the International Living Future Institute. The ILFI grades companies and products based on their total environmental impact. By creating Garden Tower 2, they were aiming for nothing less than a revolution. In March of 2018, they announced that GT2 had been recognized with a Petal Certificate from ILFI's Living Product Challenge.
What's Next?
The Garden Tower Project is always growing. They have new team members, new campaigns, and new products. They are excited to share them with you and are grateful to everyone who has helped them. They started with a few bags of potting soil in Colin Cudmore's backyard and have grown into a thriving online community with charity partnerships and a resource database.